China Edges Ahead of Greece as Largest Shipowner by Gross Tonnage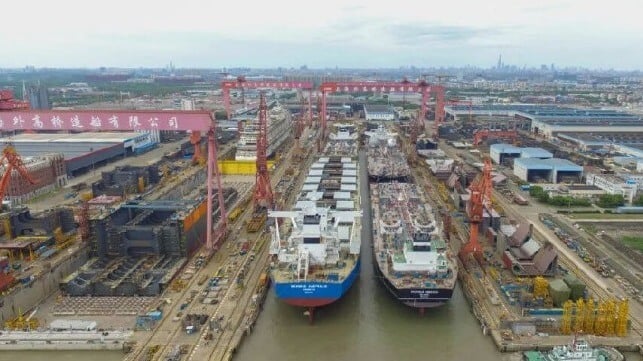 Chinese officials are highlighting new research from the UK-based Clarkson Research Service that shows that China has become the world's largest shipowner based on gross tonnage surpassing Greek shipowners which have been the largest for the past decade. While Greek has a commanding lead in the more significant deadweight tonnage (dwt) measuring cargo capacity, China is still trumpeting the development calling it a demonstration of the emergence of their economy and a shift in world shipping.
Clarkson's data reflects the rapid growth in the Chinese fleet which analysts said began in approximately 2015. The Chinese-owned fleet is reported to have recently surpassed Greece with a total of 249.2 million gross tons compared to Greece which currently stands at 249 million gross tons. China now has a small lead with a 15.9 percent market share based on the measurement of enclosed space of vessels. China also has a younger overall fleet helping according to Clarkson to reach $180 billion in value to $163 billion for the Greek-owned fleet.
China and Greece dominate the shipping industry. Japan is a distance third now at 181 million gross tons. Both South Korea and the United States own 66 million gross tons each and other leaders including Germany have slipped further down in the rankings.
Greek shipowners had dominated the statics for a decade since they surpassed Japanese shipowners in 2013. Greece still however has a commanding lead in overall cargo capacity with 423 million dwt or an 18 percent market share. Accounting for part of the difference is Greece's dominance in the global tanker market where it holds a 25 percent market share as well as in liquified natural gas carriers where it currently holds 21 percent of the market, having grown its share three percent in the past decade.
«China's shipping industry has been in a continuous state of development, and our role as the world's largest manufacturing hub remains steadfast. These factors contribute to the high ranking,» Li Yanqing, secretary-general of the China Association of the National Shipbuilding Industry, told the Global Times.
In addition, they are highlighting the continued opportunities for growth noting that China currently accounts for 22 percent of global exports and 33 percent of container exports. The officials explained that China has been building dry bulk vessels as it expands its commodity imports of grain and coal and raw materials used in manufacturing. China's two main shipping companies, COSCO and China Merchants have grown rapidly also focusing on containerships, which in part accounts for the lag between dwt and GT.
Clarkson analyst Stephen Gordon reports that China's shipping industry is benefitting from strong freight volume, its dramatic growth in shipbuilding, and the growth of its financial sector. Chinese shipbuilding for example overall produced more than 21 million dwt of new ships in the first half of 2023 while taking in orders for nearly 38 million dwt. China's orderbook is up 20 percent to nearly 124 million dwt, although a large portion of the shipbuilding is for export. Companies such as Mediterranean Shipping Company (MSC) have turned to China to finance and own its new generations of large vessels.
Greek shipowners have lagged overall in newbuilding orders while more active in the secondhand market which helped China to catch up. Analysts point to the slow growth in the tanker market and the emergence of other competitors in LNG and LPG transport. China is eighth in the gas carrier market behind Japan and South Korea both of which are expanding in the segment.
Looking ahead, Clarkson points to the emerging complexities in trade and the shipping market. They highlight the drive to decarbonize shipping which is expected to have a significant impact on ownership and the makeup of the ship-owning market going forward.